Tattoo Transfers
...High quality, unique products at a great price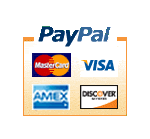 Contact Info...
Specialty Emporium
151 N. French Rd
Buffalo, NY 14228
Phone 716-380-0521
Fax 716-838-4212
If we are unable to answer, we are probably tied up with another customer. Please leave a message and we'll get back to you as soon as possible.
Privacy Policy...
Specialty Emporium will not sell, rent, or distribute any information that is collected by any means on our site. All transactions are handled independently by Paypal, one of the largest payment services in the world. We guarantee our products, and your satisfaction.

Order with confidence: it's the way we like to do business.
Pricing Info...
Pricing at the Specialty Emporium reflects orders destined for shipment within the United States only. Please contact us for international orders.